Case study: Project ECOPROFIT: Difference between revisions
Jump to navigation
Jump to search
Line 14:
Line 14:

The City of Graz has received a number of international awards for the project ECOPROFIT. The project received the "European Sustainable City Award 1996" and the "Dubai International Award for Best Practices to improve the Living Environment 2002". It was also a finalist in the "Bremen Partnership Award Contest 2001"<ref>http://www.cpc.at/oeko/oe_WasIst_e.htm CPC-Austria - ECOPROFIT® - The idea</ref>. By awarding EU the City of Graz has become the first European Sustainable City<ref>http://www.nszm.cz/cb21/archiv/akce/_nszm/nszm06/sekce06/vsetin/prez_Rakousko.pdf Local Agenda 21 - Sustainable City Graz Austria</ref>.

The City of Graz has received a number of international awards for the project ECOPROFIT. The project received the "European Sustainable City Award 1996" and the "Dubai International Award for Best Practices to improve the Living Environment 2002". It was also a finalist in the "Bremen Partnership Award Contest 2001"<ref>http://www.cpc.at/oeko/oe_WasIst_e.htm CPC-Austria - ECOPROFIT® - The idea</ref>. By awarding EU the City of Graz has become the first European Sustainable City<ref>http://www.nszm.cz/cb21/archiv/akce/_nszm/nszm06/sekce06/vsetin/prez_Rakousko.pdf Local Agenda 21 - Sustainable City Graz Austria</ref>.






An important factor in the success of ECOPROFIT® is the special way local authorities, businesses and consultants work together through common training programs and networking. This strong co-operation enables an effective flow of information and considerable synergies. Operational objectives and the idea of regional environmental protection are equally important for the future diversification of the economy and a guarantee for future jobs. ECOPROFIT® consequently contains a social component. The economic, ecological and social value of ECOPROFIT® perfectly complies with the three dimensions of sustainable development.<ref> http://www.cpc.at/oeko/oe_WasIst_e.htm </ref>. [[File:pyramide_2008.gif|left|Pyramide of operational objectives,source: http://www.cpc.at/oeko/oe_WasIst.htm,  

An important factor in the success of ECOPROFIT® is the special way local authorities, businesses and consultants work together through common training programs and networking. This strong co-operation enables an effective flow of information and considerable synergies. Operational objectives and the idea of regional environmental protection are equally important for the future diversification of the economy and a guarantee for future jobs. ECOPROFIT® consequently contains a social component. The economic, ecological and social value of ECOPROFIT® perfectly complies with the three dimensions of sustainable development.<ref> http://www.cpc.at/oeko/oe_WasIst_e.htm </ref>. [[File:pyramide_2008.gif||Pyramide of operational objectives,source: http://www.cpc.at/oeko/oe_WasIst.htm,  

'''legend:''' Unternehmen = Bussines, Verwaltung = Goverment, Soziale Akzeptanz = Social Acceptance, Nachhaltige Produkte = Sustainable Products, Öko-Effizienz = ECO-efficiency, Wirtschaftliche Entwicklung = Economic Development, Reduktion der Kosten = Reduction of costs]]  

'''legend:''' Unternehmen = Bussines, Verwaltung = Goverment, Soziale Akzeptanz = Social Acceptance, Nachhaltige Produkte = Sustainable Products, Öko-Effizienz = ECO-efficiency, Wirtschaftliche Entwicklung = Economic Development, Reduktion der Kosten = Reduction of costs]]  





---
Revision as of 10:19, 21 September 2012
CASE STUDY: PROJECT ÖKOPROFIT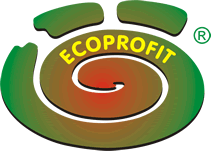 "Saving money and helping the environment by combining financial gain and ecological benefit schemes [1]."
The City of Graz, the capital of the federal state of Styria, is the second largest city in Austria and economic heart of the province of Styria[2]. The City of Graz is nowadays increasingly renowned for its exemplary efforts for sustainable development and known as a leader in integrating ideas of sustainability into the city developing plans and policies [3]. In the early 1990s, the region of the City of Graz experienced serious problems caused by air polution; the environmental situation reached a critical stage[4].

In response, the Environmental Department of the City of Graz and the University of Graz cooperated to develop and implement a local environmental management initiative in the City of Graz using integrated environmental technologies to strengthen small and medium-sized enterprises (SMEs) economically and simultaneously improve the local environment[5]. This resulted in 1991 by project ÖKOPROFIT (ÖKOlogistics PROjekt Für Integriete Umwelt-Technik), the ECOPROFIT (ECOlogical PROject For Integrated environmental Technology) which shifts environmental policy from the "end of pipe" stage to the "in process" stage and helps to protect the environment and reduce costs for business by methodological supporting companies of all kinds and sizes to introduce and improve its environmental management schemes[6] [7].

The model ECOPROFIT has been adopted as itself by towns and municipalities all over Austria and abroad or modified to local different circumstances while the main approach remained the same[8]. For the first time it was implemented in Germany as part of the Munich Agenda 21[9][10]. The ECOPROFIT approach is used in Graz, Vienna, Vorarlberg, Klagenfurt in Austria, Munich, Berlin, Hamburg, Dortmund, Aachen, and 60 more cities in Germany, Ljubljana, Maribor in Slovenia, Modena in Italy, Pécs in Hungary, Gurgaon in India, Bucaramanga, Medellín in Colombia, Incheon, Busan in Korea, Panzihua in China as a model of cooperation of the community with regional companies[11].
The City of Graz has received a number of international awards for the project ECOPROFIT. The project received the "European Sustainable City Award 1996" and the "Dubai International Award for Best Practices to improve the Living Environment 2002". It was also a finalist in the "Bremen Partnership Award Contest 2001"[12]. By awarding EU the City of Graz has become the first European Sustainable City[13].
An important factor in the success of ECOPROFIT® is the special way local authorities, businesses and consultants work together through common training programs and networking. This strong co-operation enables an effective flow of information and considerable synergies. Operational objectives and the idea of regional environmental protection are equally important for the future diversification of the economy and a guarantee for future jobs. ECOPROFIT® consequently contains a social component. The economic, ecological and social value of ECOPROFIT® perfectly complies with the three dimensions of sustainable development.[14].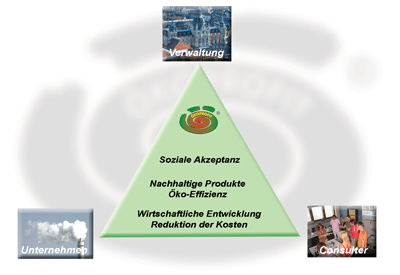 Sources